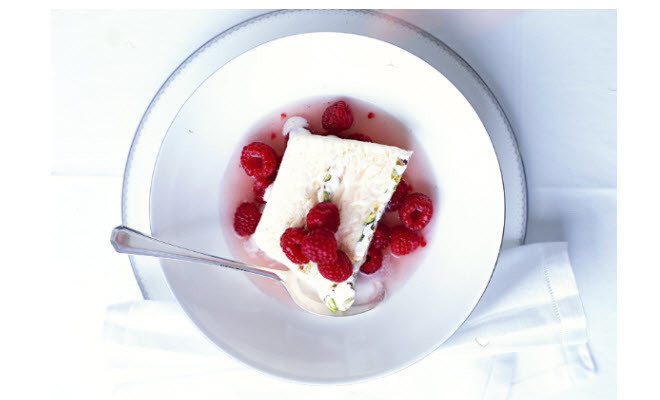 Pistachio nougat semifreddo & marinated raspberries. #DonnaHay.
|
Who said you need to serve plum pudding on Christmas Day?
This is a fabulous, summery alternative adulterated from Donna Hay.
It's pretty easy: Chop nougat, whisk eggs and cream, mix and freeze.
Done!
You need for 4 to 6 fashionista or 24 models:
3 eggs
2 egg yolks
1 teaspoon vanilla extract
1 cup (220g) caster sugar
2 cups (500ml) single (pouring) cream
300g pistachio nougat, thinly sliced
240g raspberries
1 cup (250ml) pink Moscato+
2 tablespoons caster sugar
•    Slip into Givenchy sexy lace dress.
•    Pull on outrageous Aquazurra heels.
•    Guzzle a big glass of Moet Chandon.
•    Pop on a Prada pinny.
•    Place the eggs, extra yolks, vanilla and sugar in a heatproof bowl.
•    Place the bowl over a saucepan of simmering water and, using a hand-held electric mixer, beat for 8–10 minutes or untilas thick as your waist after Christmas and as pale as your face will be when you read your credit card statement.
•    Remove from the heat and allow to cool slightly.  That's you. And the eggs.
•    Whisk the cream until stiff peaks form.  Like putting on a Wonderbra.
•    Gently fold the cream through the egg mixture until well combined.
•    Pour half the mixture into a 2 litre-capacity loaf tin and top with half the nougat.
•    Repeat with remaining ingredients and freeze for 6 hours or overnight.
•    Before serving place the raspberries, Moscato and extra sugar in a bowl and toss to combine.
•    Cut the semifreddo in chic slices.
•    Toss on a few fresh pistachios and accessorise with the marinated raspberries.
•    Yum.
Donna Hay says Pink Moscato is an aromatic wine with a delicious sweet berry flavour and a delicate bubble. Substitute with sparkling wine or Champagne