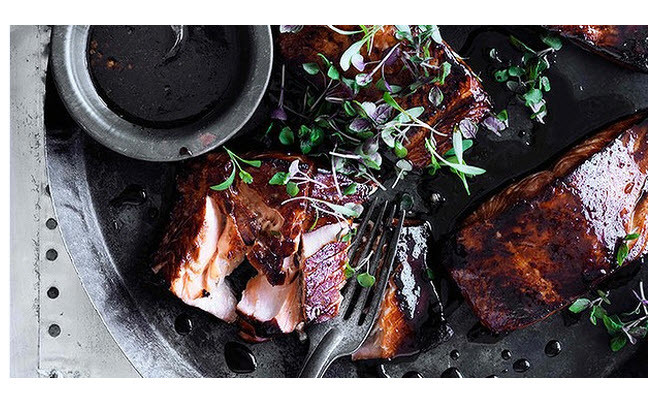 Teriyaki salmon #yum.
|
When you want to eat salmon but need something with a kick.
When you want to eat salmon but you are sick of the usual blah blah recipes.
When you want the kids to eat salmon but not know what they're eating.
This recipe is for you. It's sooo good.
Thank you Neil Perry.
Serve with a salad and potatoes and voila!
You need for 4 fashionista or 37 models:
4 x 150g salmon fillets, skinless
1 tbsp vegetable oil
steamed white rice, to serve
1/2 punnet micro herbs, to serve
Salad.
For the marinade
1/2 cup sake
1/2 cup mirin
1/2 cup soy sauce
2 tbsp castor sugar
•    Slip into your new Balenciaga white nightie.
•    Pull on your new white Dior slides.
•    Sock down a wine. Stat.
•    Combine marinade ingredients in a pan, bring to boil, boil for 1 minute. Cool.
•    Pour marinade over fish fillets in a large, shallow dish.
•    Marinate for an hour in the fridge, turning halfway.
•    Guzzle more wine and read latest Vogue.
•    Preheat oven grill to medium.
•    Note: Before you start cooking make sure you can place rack as close as possible to the grill and still able to fit an ovenproof pan beneath .
•    Drain marinade from salmon and place in a small pan; simmer over moderate heat for about 20 minutes or until reduced to about half a cup. Like your bra size.
•    Reserve the juice. And your bra.
•    Heat oil in an ovenproof pan over a high heat.
•    Place salmon fillets, presentation side down, in the pan. Their best side.
•    Colour for a minute, then gently turn to other side. Like doing your makeup.
•    Cook for another minute, then place under grill. The salmon, not your makeup.
•    Grill fillets for 2-4 minutes each side depending on thickness, brushing the reserved teriyaki sauce over fish to glaze.
•    Remove from heat and rest for 5 minutes. You can rest as well. #pourawine.
•    Serve with steamed rice or potatoes and salad.
•    Pour excess juices into a jug to extra jus.
•    Accessorise with micro herbs.