Now Boarding ! Chanel Airlines #Karlsquotes.
|
"It's the idea of how it should look!" Karl Lagerfeld on Chanel Airlines and the incredible airport terminal installed in the Grand Palais for the Chanel spring summer 2016 show to Vogue.
"Air travel is a part of life, and I want to make it more perfect than it is," Karl on the for gigantic Chanel Terminal. See the amazing video here at Chanel.com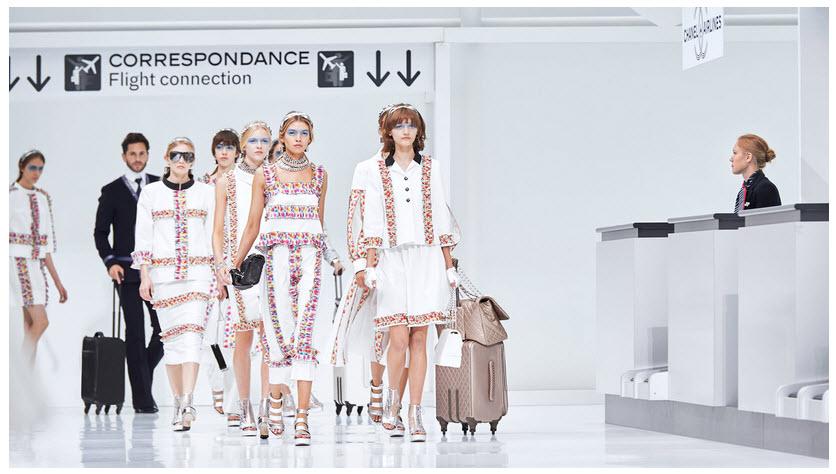 "No buttons, no braid, no pockets, no golden chain, not one element of Chanel. Nothing is going on, and a lot is going on. No idea is still a good idea." Karl on the new Chanel jacket.
"Silver is so much better than gold on the plane," Lagerfeld advised during a preview of the show to WWD
"I think I'm pretty lucky that I can do what I like best in perfect conditions. I don't have to fight with anybody" Karl on being a first class traveller.
"You know my contracts with Fendi and Chanel are for life? And I don't feel tired at all. I hate slow people. Horrible". Karl on life….
"It's very pleasant to wear gloves," said Karl Lagerfeld during a preview of Chanel's Spring collection.
"I was asked by somebody to do this. Because they think I'm not normal, but I flatly refused. Unique pieces are unique pieces. But I think, very flattering, huh?" Karl when scientists approached him about doing DNA testing to determine the source of his almost eerie vitality.
"Also I was asked for skincare for men because they think I am remade. But I am not remade. I am all fake but not remade." Karl to Alexandra Shulman for the latest issue of British Vogue. (Double C's not Helix)
" I prefer not to analyse why or why not. I have the feeling that when I am doing Fendi I am another person to when I am doing Chanel or my own line. I have no personality. I have three. I never ask myself questions. I try to find answers. It's a very pretentious line, no? I am in a way like a machine. I have electronic flashes, it's true." Karl on working between Fendi , Chanel and his own label to British Vogue