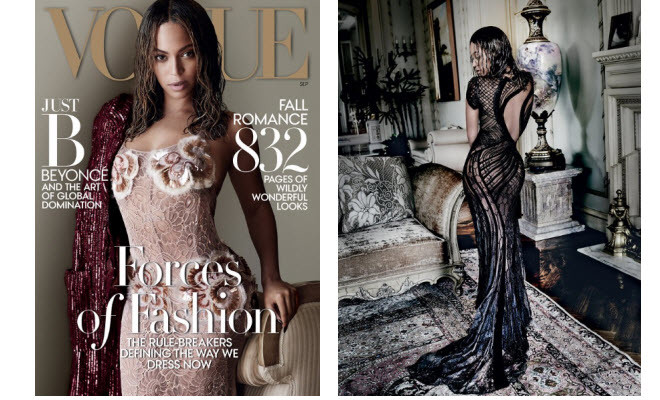 They said whaat? #Beyoncesaysnothing.
|
Seen but not heard: 'The biggest US Vogue of the year,  the vaunted September issue (832 pages!) is now on the stands. On its cover is arguably the biggest star of the moment, Beyoncé. But inside Vogue's September issue, Beyoncé says not a word. There is just an a short essay on her star quality' Read more on the enigma of Beyonce at The New York Times

"What I think is unfair is to lump actresses together. People aren't lumping Justin Timberlake and Ashton Kutcher together. They do other businesses." Jessica Alba on the Gwyneth Paltrow website comparisons to Alllure.
'You go through pregnancy and labor and then feeding the kid and you go, Wow, my body is totally amazing, and I'm never going to not like it again, because it did this, and this is fucking extraordinary." Oh, and the baby's name? It's Edie' Keira Knightley to elle.com
"I can never tell when I have food on my face … or when someone's high. That's why I can't go to Coachella or Glastonbury." Taylor Swift to Vanityfair.com
"When I was younger, I just did it. I just acted. It was just there. So now when I receive recognition for my acting, I feel incredibly uncomfortable. I tend to turn in on myself. I feel like an imposter… It was just something I did." Emma Watson to vogue.co.uk

"An icon transcends time. Liz ( Taylor ) was so fabulous and decadent and had a style that evolved with the years …and I'm sure I'll be married just as many times!" Katy Perry to Harpersbazaar.com
"All the companies I work for want me to guarantee how much I'll post for them, but I'm not going to force my career onto the people who follow me. I refuse to do 40 Instagram posts about any campaign."  Gigi Hadid to W magazine.