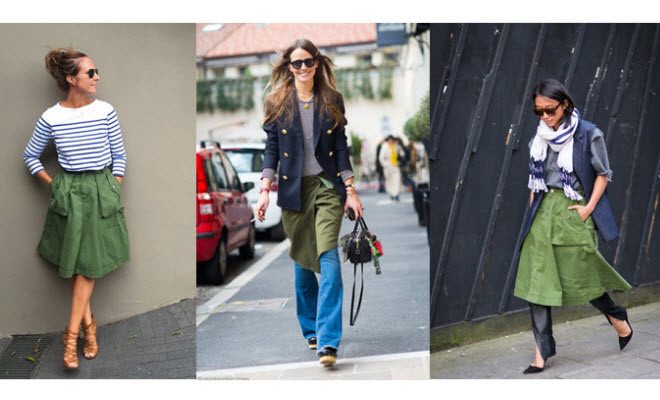 Get the look: A utility khaki skirt.
|
Military khaki has been hovering on the FiFi Report groove horizon since last year.
Now it's turning up in all the stores.
What's to love about khaki ?
It's just as versatile as a neutral but it's a bit edgier.
It's best to wear just a touch. No need for a full uniform unless you are an officer in the fashion police.
A ulility skirt is the way to go.
I've been on the hunt for this Marc by Marc Jacobs skirt since I spied it on shopbop in March. Now you get the look from Country Road.
Think about wearing in a different way.
It looks so nonchalant with breton stripes and a chic tailored navy jacket don't you think? But if you want to be more adventurous try layering it over jeans – it looks cool with denim.
The most important styling trick?
It's time to tuck in your tops, wear the skirt high on the waist.
Add neutral strappy heels ( a full skirt like this needs heels) et Voila !
You'll be highly decorated with military honours.
Skirt from Country Road, Navy blazer from J Crew, Saint James stripe tee from Tuchuzy and heels from Wantedshoes.
All street style pics are from FiFiReport pinterest.