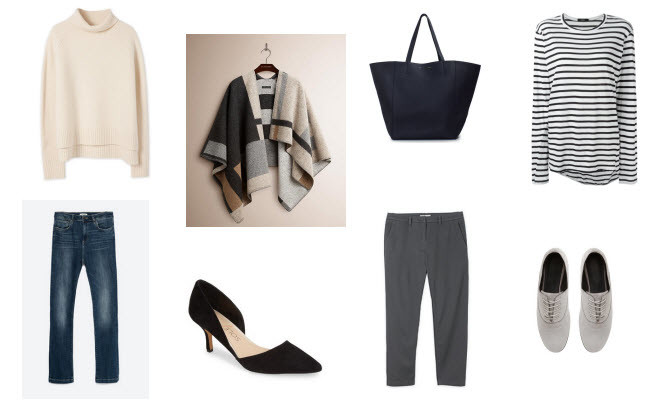 FiFi's Fav Finds ! Eight more pieces to love. #getshopping.
|
Everybody is always asking what I actually have in my own wardrobe. #Anyguesses? #Blackwhitegrey!
Today we are continuing with my list of my most favourite pieces.
The clothes I've been living in ALL winter.
Here is more of what I am loving right now…
*scroll down for all tips and tricks and how to wear them.
The cream poloneck sweater.
Here's the thing about classic pieces.
They grow old and daggy. The shape changes. Such as my good self !
The gorgeous cream poloneck sweater you had from a couple years ago?
This winter it will be too tight. This season the slouchy oversized knit rule.
Love this cream knit from Country Road. The neckline actually sits up so it's much chicer than the pic.
Layer the stripe tee under the sweater so it peeks out.  #stylingtrick.
It's long enough to cover bumps but short enough to layer pieces under it .
The good news: You can throw this sweater in the washing machine on cold wool wash. #yesplease.
The stripe long sleeve Tee.
You can't go past a Bassike tee.
They pass the strict FiFi neckline test. No wide scoops here. Thankyou.
Apply the same philosophy here about classics growing old and daggy.
A tight stripe tee? Wrong.
The cut of this tee is slouchy and skims over the muffin situation.
And the light cotton is so lovely to wear into the humid summer.
oh and they bounce back into shape after washes. Such as my good self.
Worth the $$.
SHOP it here.
The low crutch chinos.
It took me a while to ponder this look.
But oh la la : once I put on these Country Road chinos I couldn't take them off.
Why?
So totes comfortable !
Why wear tight – can't breathe – skinny jeans when these are waiting for you?
Go for grey because then you can toss on with black sweaters and shoes.
Buy a size bigger. Then wear low on hips.
For weekends so right with sneakers and a big coat.
For evening love with heels and the hem rolled up to above the ankle.
Look at that I am wearing them now!
Dorsay pumps.
Dorsay means it's a shoe with a cut out in the middle.
Celine brought them back. Now this heel is everywhere.
I hunted these down from Nordstrom: they look fabulous – sure- but I love them for the lower, walkable heel.
They are comfortable but you may need an insole to keep your heel in place.
You want black suede. Yes, even in summer.
Love with ALL pants from jeans to chinos.
Shop now from Nordstrom.
The cape/poncho thingo
I've been living in my camel Max and Co cape for years now. #iamsoahead!
Now there are capes everywhere.
Perfect for Australian winter when you don't need a big coat.
Heading to Lake Como with George Clooney ? Perfect for the jet and the yacht.
Love this divine cape from Burberry.
It's my single nod to BohoNoNo.
You can find a cheap but chic version at French Connection and this reversible cape from Trenery . It's so flattering. (Grey and navy : what more do you want??!).
Classic Jeans.
I don't spend a fortune on jeans.
Rather spend it on a Celine bag!
So my pick for jeans has to be Country Road,  Jeanswest or head to Zara.
My advice? You have put aside hours and hours to shop for jeans.
Then when you find what looks totes amaze on you, buy two.
PS. A review of where to buy and how to wear flares coming soon.
A stand up tote.
My philosophy is to spend as much as you can on a designer bag.
You can thrash it every single day. And the better the quality the more it can handle the continuous usage.
Love this stand up Celine tote. It's all you need in LIFE.
Casual and chic. Carry on your shoulder or in your elbow.
Toss everything from phone to wallet to gin bottle into it.
For fabulous totes at all prices check out Parlour X,  Shopbop, Baggu and Zara, and Marc By Marc Jacobs.
Laceup shoes.
Flats are so fashion right now. LOL.
This is good. And sometimes not so good.
Put it this way: Toes loves flats. Short legs love heels. #truestory.
Also sometimes brogues are just too masculine. And sneakers can look too jaunty.
Which is why I love the grey suede laceups from Witchery.
Grey lightens your whole outfit.
Plus they are a sexy softer, more refined shape.
Too heavy and watch as George Clooney turns up his nose. #Scary.
Love with jeans and chinos. Maybe not with a skirt. Unless you are a supermodel. Soz.
Let me know what you have been loving this season !
Love to hear from you. x