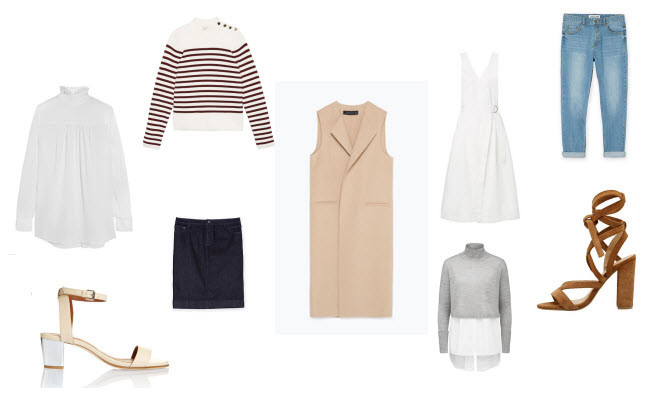 FiFi's Fav Finds: 12 pieces to love. #getshopping.
|
It's a good time to shop right now as there are lots of fabulous new pieces in store.
My shopping list this week?
It's simply my picks of fav pieces that made my heart beat faster.
There is no theme to link these pieces together except that they all made me want to take my clothes off. And head to the fitting room.
Even the shoes. Yikes.
A mix of summer and winter obviously all these pieces still get the FiFi tick of approval: that means no florals or tacky bright colours and all in updated shapes.
Now scroll down for the shopping list, tips n tricks and why you need everything.
#Getshopping.
The shopping list:
Sandro black coat.
Do you know Sandro Paris? It's a chic label that has stores all over …Paris. Actually there are stores all over the world. Now you can buy it in David Jones. Love this black fringe coat. It's unstructured but still a statement piece. You can toss this over a tee with jeans or wear it to work. Or to the opera. With Bradley Cooper.  Buy from the DJ's store.
The white Dress.
This gets a FiFi stamp of approval. Check out that neckline. The belted waist. The clean look. It's like an updated version of a DVF wrap dress. Everyone needs a white dress in summer and you gotta love this in cotton. #lowkey. Wear with heels or flats. Done. Buy from SeedHeritage.
The black flat gladiators.
Imperative for your summer wardrobe.  Whatever your age. Scientific fact: Shoes change your whole entire outfit. These little numbers will instantly update even your daggiest outfit. True story. I like the croc print. And please shut up about cankles. These shoes can actually hide muffin ankles. Buy here from Sambag.
Camel sleeveless vest.
You got the memo about the vest? You probably have 3 in your wardrobe by now and LIVED in them as I have for the past year. Oh, so you missed that news item? Bless. Buy one right now. Love this camel one from Zara but also check out the Scanlan&Theodore black heavy knit vest here. It's sensational ! Wear it over everything you own. Including PJ's. From ZARA
The Victorian white blouse.
You need a white statement shirt. My only nod to Boho, it's table top dressing at its best. White next to your face takes years off …AND it's totes divine with jeans or leather or chinos or a skirt or denim or…Buy here from net a porter.
The suede tan strappy heels.
Celine and Gucci started the trend. Now all you want and need are tan suede ANYTHING. Love these heels to lighten up your wardrobe. Who cares if you can't walk. You will look fabulous. ( Don't worry there are so many lower heels around – see below -so put down that paper bag and breathe). Buy here from SeedHeritage.
Grey sweater over shirt situation.
Don't you love it when designers take a styling trend and then do it for you. You don't even have to think about how to layer a sweater over a shirt. You can buy these two already stuck together. #lovesit. Think about wearing over a pencil skirt . Or over the baggy boyfriend jeans from Country Road or Jeanswest. Buy here from French Connection.
White shoes.
I know. Who woulda thunk. White shoes. I've been banging on about them since I hyperventilated when they first appeared in the Celine show seasons ago. Still loving. They somehow work. Get for these inspired copy of the Nicolas Kirkwood loafers if you feel like you are off to bowling in white sneakers. Bless.
The stripe sweater.
You want this stripe Breton sweater also from Sandro Paris. It comes in navy as well as burgundy stripe. It's LOVE. A must buy.  Get it from Djs store.
The denim skirt.
If you are scared of a light chambray denim skirt then this one is for you. The dark denim means it's as good as black except that it's in groovy denim. And denim is HUGE this season. It's a great fit and will suck you in. #nospanxneeded. From Trenery.
The block heel sandal.
What's not to love? Sexy and walkable. You need these sandals. Celine has been doing this style for years and now everyone has caught on. I like this pale colour but black is there if you need them. Wear with pants but you've got to roll up the hem or else you will be in trouble from the style police. And why cover shoes comme ca? Buy from SABA.