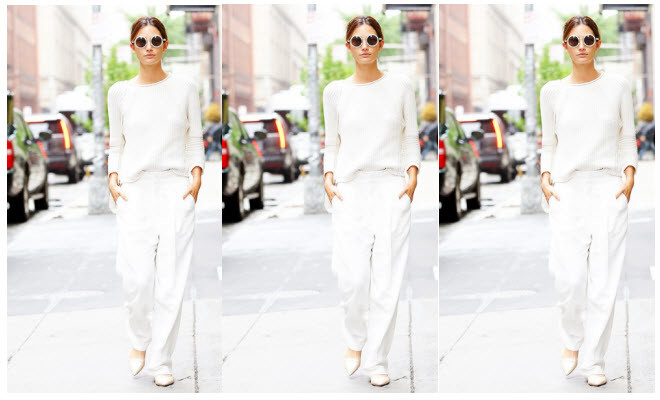 Steal her Style: It's all white.
|
White.
It's the one trend that's easy to wear.
Easy to understand.
Easy to toss on.
There is nothing tricky in this trend.
There are no kooky ways to style it.
Nothing to make you think too hard.
Nothing to make you gulp and mutter Yikes, I'm not trying that look.
The way to wear it?
Head to toe.
The FiFi fashion tip?
Make sure you invest in the NEW shapes.
That's what makes it look current. New. Chic.
Wide pants. Slouchy sweater. Pointy flats. Round sunglasses.
So let's dissect this divine look of Model Lily Aldridge.
The white pants are wide and baggy. High waisted. Long enough to just sit above the pointy toe ballet flats. (These are from Tabitha Simmons ).
The sweater is slouchy. A simple round neck.
It sits a little shorter to meet the top of the high waist pants.
But it's long enough to do a half tuck.
She wears nothing under it. The look is simple.
No jewellery. Just fabulous white ROUND statement sunglasses.
And a white Celine Trio bag to sling off your shoulder. Gotta love that.
Talk about easy !
You can steal her style . Wear now and then into summer.
#Get the look. Just click on the links or the pics below.
Your shopping list:
White wide pants : Country Road on sale, Bassike on sale, Chloe On sale, Jason Wu .
White sweater :  Country Road,  J Brand,  Jac and Jack, Seed Heritage, Trenery.
White Round sunglasses : from Sportsgirl or Retro Superfuture.
White pointy toe flats: Buy from Urban Oufitters, Tabitha Simmons, or try these loafers from David Jones