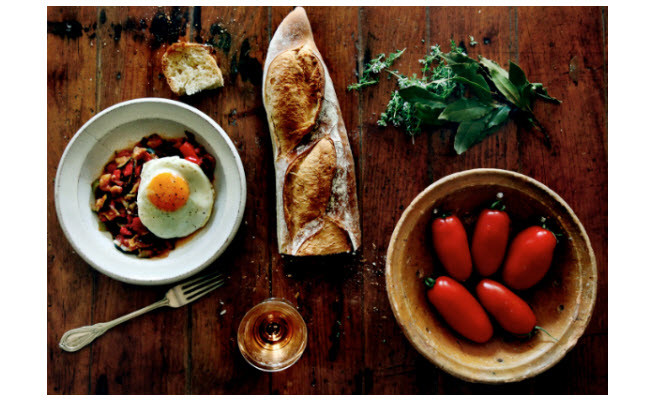 Monday's menu: Ratatouille. #BastilleDay
|
Just in time for Bastille Day!
Voila this lovely recipe for ratatouille adulterated from my favourite food blog Manger by Mimi Thorisson.
She writes "Whenever I cook a ratatouille, my kitchen smells like a Provençal market, filled with Mediterranean scents.. Even though ratatouille is a grand classic French dish, you won't often come across it in the restaurant menus. This is a true 'home-cooked' meal, to be eaten in the best traditional way, with a golden fried egg on top. I always feel invigorated when I cook this meal, not only is the scent uplifting, but the deep and rich colours of the mixed vegetables give you a sense of culinary wisdom – as if your body was a temple and you are about to make a healthy offering". Je l'adore !
You need for 4 fashionista or 32 models:
2 medium-sized onions, sliced
1 red capsicum, sliced
1 green capsicum, sliced
3 courgettes/zucchini, sliced
1 large aubergine/eggplant, cut into cubes
3 medium tomatoes, chopped
3 cloves garlic, finely sliced
2 sprigs of fresh thyme
1 bay leaf
40 ml red wine (optional)
4 tabsp olive oil
Salt and pepper
•    Slip into Petit Bateau stripe top and zip up Isabel Marant jeans.
•    Slide into Chanel ballet espadrille wedges.
•    Pour a glass of Moet Chandon.
•    Ask Bradley Cooper to slice all the vegetables so they are all the right size.
•    Heat the olive oil in a large pan and cook the onions until they are transparent as a Dior sheer skirt.
•    Add the capsicums and cook for 3 minutes.
•    Then toss in the aubergine, courgettes, garlic, thyme and bay leaf, season with salt and pepper, and cook for 3 minutes.
•    Finally, add the chopped tomatoes and the red wine (optional), stir gently, cover and cook for 25 minutes on a low heat.
•    Mimi suggests serving it with a fried egg, sunny-side up but this is fabulous with a back strap of lamb or roast chicken.
•    Accessorise with fresh thyme and serve with a crusty baguette.
•    Bon appetit !