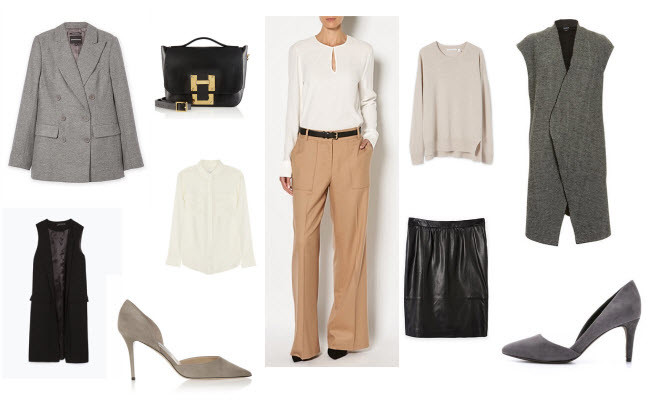 Your work wardrobe. Twelve pieces to buy now. #Done.
|
What to wear to the office?
It's a tricky one.
Depends on where you work.
Some places are much more corporate than others.
But at the end of the day there are certain wardrobe rules that apply to any office.
Clean, neat and tidy.
Don't show too much skin.
Cover up the cleavage, knees, midriff or back. #yikes
The rule to go by?
Keep it simple. Understated. Slouchy.
Keep away from anything too tight and clingy. It looks dated. Old fashioned.
The good news?
It's easy with so many gorgeous classic / normcore pieces around this season.
Look for the new shapes: Loving a double breasted blazer, a sleeveless long vest or wide slouchy pants.
There is no need to head to toe black. Mais non!
Mix it up.
Toss a neutral sweater under a grey vest, a white shirt with a leather skirt, camel pants with grey heels.
Hint: if you are freezing in Melbourne or Wellington just toss a coat or cape over any of these outfits.
Done! #getshopping. Click on the pics or the links below.
Your shopping list:
Country Road double breasted blazer, Witchery camel trousers, Trenery sweater, Grey heels from Shopbop.
French Connection grey vest, Seed white shirt, Nine West heels, Sophie Hulme bag on sale Net a porter
SABA vest, Trenery leather skirt , also try Sambag for a pencil skirt here, Equipment shirt from Djs, Jimmy Choo heels on sale
Also try Zara for the black sleeveless vest ins tore with a faux fur collar.