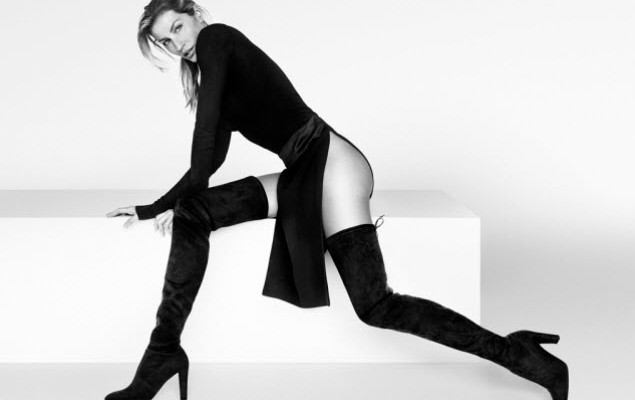 They said whhhaat?! Celebs blab.
|
"I could not have picked a better pair of legs than Gisele's to show off such a sexy boot. She defines the term ALLLEGS, and inspired its name," Stuart Weitzman  on Gisele Bundchen in his Fall 2015 campaign wearing 28-inch thigh-high boots shot my Mario Testino Shop here
"I've seen it happen—particularly on men—I don't think it really works; I think it actually makes you look older. I'm a big believer in the idea that you can't try to look younger. You just have to look the best you can at the age you are," George Clooney to bbc.co.uk
" I answered a question about beauty advice with a story about how I'd recently seen the catacombs in Paris and was struck by the thought that we'd all be bones someday. Everyone at the table, all these 25-year-old women who worked at beauty websites, were just jaws-open horrified. But it's true! We're all going to die, and we're not going to have faces anymore. So do what you want with your face, because it will be a skull pretty soon." Emma Stone to WSJ on doing a junket for a mascara launch.
"People just saw me as this girl in a bikini in movies kicking butt — maybe not the brightest bulb. It took three and a half years of condescending nods and pats on the back of 'good luck', or 'go back to endorsing things or go do a perfume.'" Jessica Alba to Forbes magazine.
"The thrill of acting is making a character real. Modelling is the opposite of real. It's being fake in front of the camera." Cara Delevingne On leaving modeling for acting to US vogue.
"Everyone keeps on saying South, and I think it's so stupid. Stupidest thing ever and just ridiculous." Kim Kardashian on naming baby No. 2.  (Stupid is what stupid does).
"I was like, This is stupid. Hip-hop—dumb, dumb, dumb, dumb. But then I started to think, Cookie is going to piss so many people off! She hits her son with a broom; she talks back. Clearly, this was a challenge." Taraji P. Hensob  On originally turning down her role of Cookie in the TV show Empire to wmagazine
"Women have always got along with me, but men don't like me too much. They want a quick guide to cooking, they don't want to do too much. We had to restructure our content and put the end result at the beginning of the show so that they know what they're doing, instead of at the end." Jamie Oliver at Cannes Lions
"I believe in breaking rules.. I want to get rid of the old system, work together, support each other and make fashion a true global community. We are living in an industry that is always about the next thing: who is the next person? It should be more about collaborating, working together, taking the best of each world." Donatella Versace on being the face of the new Givenchy campaign to Vogue.co.uk