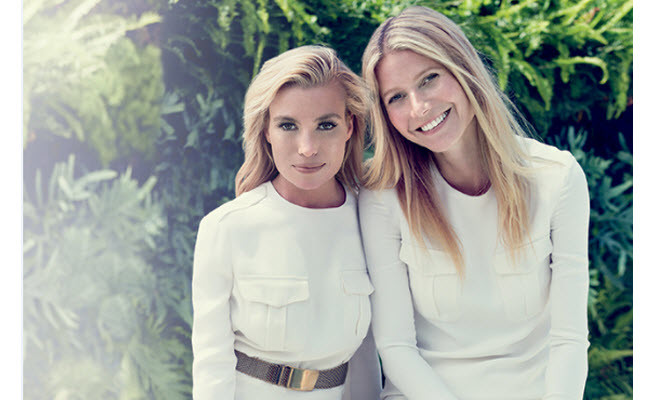 They said whaaat? Celeb quotes.
|
"I remember there was a certain point when I felt like I was going to cry. I just physically and mentally couldn't do it anymore. It was too hard for me. You said to me, 'Don't even think of it like that. It's not an option. It's like brushing your teeth. You get up and do it.' You showed me how to take the option out of it and make it something you do for self care as a woman who wants to feel good in her body and feel healthy and feel strong" Gywneth Paltrow to Tracey Anderson to The Hamptons Magazine.
"I had this problem – worrying about looking old – when I was 33 and thank God I got over it and it never came back," Miuccia Prada  now 66 to The Telegraph
"And in any case, if we work, who cares? If you don't work, of course you think about the problem of your wrinkles from morning until night. If you work, you have something better to think about. If you don't work, if you depend on a man for your bread, how can you be happy? If you are young and blonde, maybe he will love an older one with black hair.  So just live your life. This is so obvious,"  Miuccia Prada The Telegraph 
"The only kind of movie where women make more than men is the porno industry. It's simple ignorance." Salma Hayek, on sexism in Hollywood, to Variety.
"Sometimes I think, this is like a shabby b&b, nobody pays and I can't get on with my life. I look at houses in magazines and can't understand why you can't see any of the wires. I'm obsessed. You can see every wire in my home, it's like spaghetti junction. And let's not talk about the dog pee . All I can say is, what was a cream carpet now looks very on-trend tie-dye. And my curtains are very "dog-pee ombre".' Yasmin Le Bon to Red magazine 
"I ended up feeling a bit empty. Fashion is about what's on the outside, and that's it. There's no searching, it's just creating pretty things." Cara Delevingne on modelling to wsj.com
"I prefer to be a villainess. There's something a bit more delicious about their wickedness." Rachel McAdams on the type of characters she likes to play marieclaire.com
"I obviously don't look like this or wear this while I am breastfeeding but this stands for all women out there, whether you breastfeed or not, we gave birth, we are women, we are mothers. Thank you to Elle for being so bold and making such an encouraging, positive and healthy statement." Model Nicole Trunfio on her cover for Elle Australia.
"In an ideal world no one would have an issue with seeing breastfeeding on the cover of a magazine. But it's not an ideal world. Supermarkets are where we make a large proportion of our sales." ELLE editor Justine Cullen released a statement explaining why the image of Nicole breastfeeding was published on the subscriber issue cover, not the on-stands issue.
"Jam-packed with people, personalities and ideas, it was international, enlightening, thought provoking and sometimes so downright bonkers it totally blew my mind" It is 35 years since i-D magazine launches and celebrates with 18 Model covers.