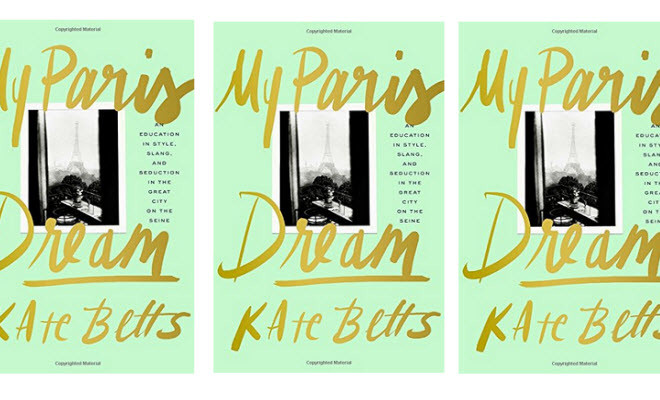 My Paris Dream: An Education in Style, Slang, and Seduction..By Kate Betts.
|
If you have been reading fashion magazines for as long as I have you would know of Kate Betts. She has been 'covering the world of style for twenty-five years, first as a reporter in the Paris bureau of Women's Wear Daily and later as an editor at Vogue, Harper's Bazaar, and Time magazine. Now she has written a memoir about her coming of age as a fashion editor in 1980's Paris.
'As a young woman, Kate Betts took off for Paris, renting a room in the apartment of a young BCBG (bon chic, bon genre) family and throwing herself into the local culture. After a series of dues-paying jobs that seemed only to reinforce her outsider status, Kate's hard work and willingness to take on any assignment paid off: Her writing and intrepid forays into la France Profonde—true France—caught the eye of John Fairchild, the mercurial fashion arbiter and publisher of Women's Wear Daily, the industry's bible.
Kate's earliest assignments—investigating the mineral water preferred by high society, chasing after a costumed band of wild boar hunters through the forests of Brittany—were a rough apprenticeship, but she was rewarded for her efforts and was initiated into the elite ranks of Mr. Fairchild's trusted few who sat beside him in the front row and at private previews in the ateliers of the gods of French fashion.
From a woozy yet mesmerizing Yves Saint Laurent and the mischievous and commanding Karl Lagerfeld to the riotous, brilliant young guns who were rewriting all the rules—Martin Margiela, Helmut Lang, John Galliano—Betts gives us a view of what it was like to be an American girl, learning about herself, falling in love, and finding her tribe.
Kate Betts's captivating memoir brings to life the enchantment of France—from the nightclubs of 1980s Paris where she learned to dance Le Rock, to the lavender fields of Provence and the grand spectacle of the Cour Carrée—and magically re-creates that moment in life when a young woman discovers who she's meant to be.'
My Paris Dream: An Education in Style, Slang, and Seduction in the Great City on the Seine
Pub: Penguin Randomhouse May 12, 2015  from Amazon.com