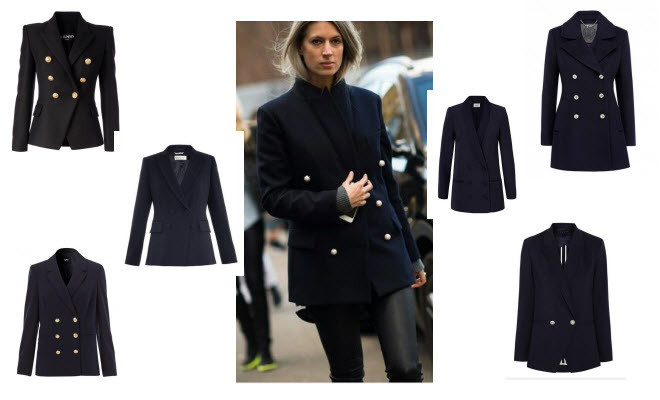 Luxe to less: A double breasted blazer. #getshopping.
|
What: the item du jour? A double breasted blazer.
Which: You don't have to ditch the single breasted blazer but it's time to invest in a double breasted jacket. (They normally come in two's right? LOL. ). It might be navy or black. It could be in khaki. It might have brass or military buttons or just go for plain buttons.
Why: Because a double breasted blazer looks new. Its sharp shoulders are flattering. Gives you a shape and a waist. Yee, gads it's a miracle. Because all that tailoring means it will joosh up to anything you wear. Like ripped jeans and slouchy pants.
Wear: With something low key and casual. It's all about the contrast of dressed up and dressed down. High and low. Sharp and loose. Love with ripped jeans, chinos or skinny leather leggings ( get the look here). Layer it over a navy or white tee, a cream or grey poloneck or a chic silky blouse. Keep it simple.
Where: Balmain, Country Road, Theory, Forever new, SeedHeritage, Sportsgirl, Camilla and Marc, Sportsmax and Vince.
Get shopping !