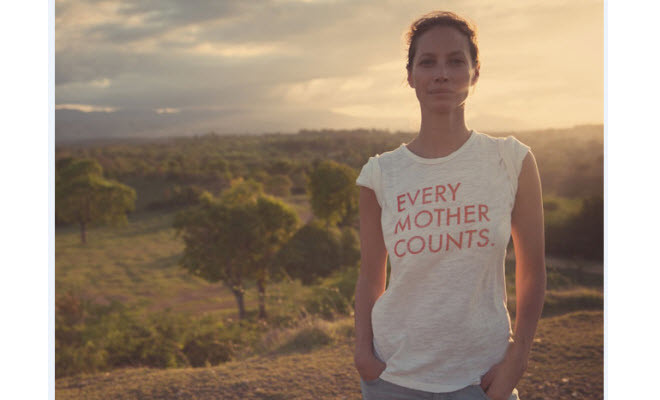 Every Mother Counts #Giveback.
|
Mother's Day on May 10th should be a day of giving back.
After her own difficult and potentially fatal childbirth, Christy Turlington Burns was moved to learn about the global crisis of maternal mortality. Now she's determined to make delivery—and pregnancy—safe for all expectant mothers everywhere.  So in 2010, Turlington founded Every Mother Counts, a non-profit organization dedicated to making pregnancy and childbirth safe for every mother.
Every Mother Counts raises funds that support maternal health programs around the world. It was founded after the completion of Turlington's documentary, No Woman, No Cry, a film about pregnant women and their caregivers in Tanzania, Bangladesh, Guatemala, and the United States.
She says " A woman dies every two minutes bringing life into the world. Ninety percent of these deaths are preventable with treatments and medicines that are widely available. We don't need to invent anything to save these lives—we just need to make it a priority to save them."
You can Shop here at the Every Mother counts and 100% of the proceeds go directly into life saving programs around the world.