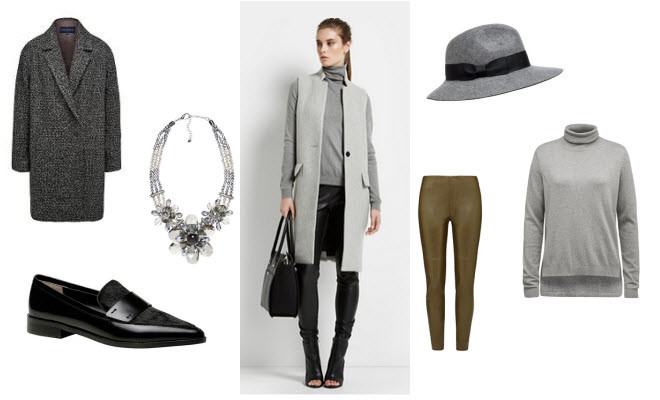 Eight fabulous French Connection pieces to buy right now. #getshopping!
|
All loyal FiFi Report readers know each week FiFi loves to hunt down and find what's hot in the shops.
To make life easy for you.
So you can get dressed. In five minutes flats. With your eyes closed.
What's the secret?
Sticking to the 'expensive colours'.
We are talking gorgeous grey, black, caramel, navy and white. With a big dollop of khaki and denim.
All these colours love and adore each other.
Which means you can mix and match to your heart's content.
And build a wardrobe.
The trick is to make sure you always update the basics so you don't end up in dagdom. #Yikes!
This week in French Connection you can find are 8 fabulous pieces you need , like totally, right now.
Get shopping ! Click on the pics or scroll down the shopping list .
Your shopping list:
The check tweed coat:  It has a oversized, manstyle shape means so you toss it on over layers of knits. And still look chic.
The poloneck sweater: This is your new wardrobe basic. Go for grey. It's as versatile as black but much more flattering next to the face.
The skinny jeans:  Sitting higher on the waist these jeans are completely comfortable. #yesplease.
The floppy hat: It will add a little edge and it may even keep you warm #lovethat.
The cape: Toss it over a sweater or tee. Even better toss it over your coat when it's freezing. It's the perfect travel / transeasonal piece. #layerup.
The jeggins: Almost a wardrobe basic, these leather-look leggings look great in khaki . A way to break up all the black.
The necklace: Think about wearing a jewelled necklace. In the day. With jeans. With a cape. It's about mixing up the casual with something unexpected.
The loafer: You will love pulling on these shoes every day. They work with jeans, leggins, or a flirty skirt. You can shop/walk for hours #painfree.