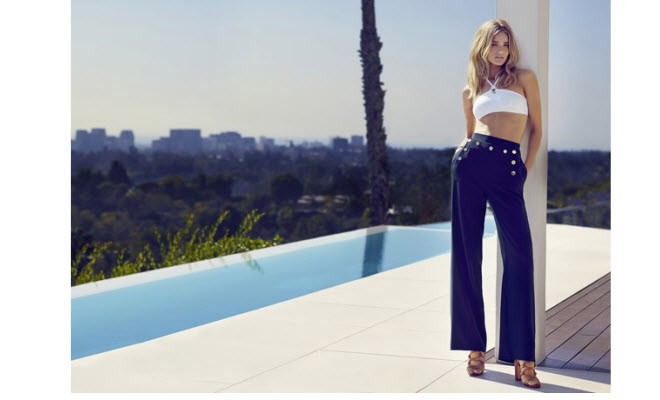 They said whaaat?! Quotes of the week.
|
"When I'm travelling I always put an outfit on every time there's going to be paparazzi at the airport, and when I get on the plane I change and snuggle down" Rosie Huntington Whitely to Harpersbazaar.com
"I hired the speech coach, and you have to work so much. It's exhausting. It's also boring. And I have a bad ear, you know? I've been in this country for 20-something years and I still sound like this . . . So I was going to auditions and the only thing I could focus on was the position of the tongue." Sofia Vergara to  vanityfair.com
"As soon as I met Sofia, I said, 'I want to make a movie with you.' I think she's the next Lucille Ball. She and I together are such a funny thing because we represent two completely different cultures and kinds of women, but we just love each other. We laughed so much. I couldn't understand what she was saying half the time. She couldn't understand what I was saying half the time" Reese witherspoon on her friendship with Sofia Vergara to Instyle.com
"I'm a very, very, very lucky girl. Very lucky. He's hot. He is hot. How do you say that in an interview? You're a forty-year-old woman sounding like a sixteen-year-old. There's something beautiful about that, but you lack the articulation of really saying what it's like when somebody walks into your life and makes you see something that you really never thought you'd be able to see. If somebody had said to me, 'This is what it will be,' I would've said, 'F*ck off.' As you can see, it makes me smile." Charlize Theron Esquire.com
"A full-time job. I'm, like, driving down the road, pumping" Blake Lively On breast feeding to allure.com
"You know what kids are like! They want new soccer boots. They want new sneakers. It came to the point where he turned 14, and I thought, 'If you want something then go and work, and then you've got your own money." David Beckham, dishing on son Brooklyn's new job at a local French café
"I'm softer than I've ever been, including that unfortunate semester in high school when I simultaneously discovered Krispy Kreme and pot." Olivia Wilde, on her post-baby body.
"I look in the mirror, and it's hard for me. I am really thin. I want to look fit and beautiful and sexy, and I can't." Giuliana Rancic, explaining how cancer medication affected her body.