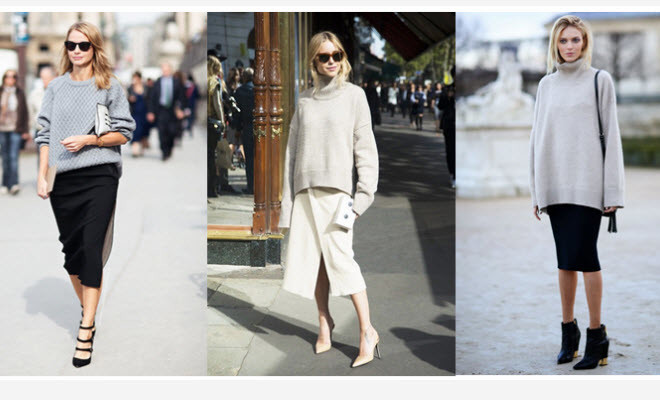 Styling trick? Big sweaters and long flirty skirts ! #getshopping.
|
Styling trick du jour?
Toss a big, slouchy sweater over a longer flirty skirt.
It's a fabulous mix of slouchy casual and feminine softness.
I've been loving this look of since I first spied it more than a year ago here.
And you know I've been crazy about grey and grey sweaters for, like ever.
But that doesn't mean this look is over.
Mais non. Au contraire !
The long and lean silhouette is now just peaking on the groove richter scale. #Yay
Just check out the shoot of the week in April US Vogue here and you can see what we are talking about.
And look how easy it is ! #streetstyle
Slip on a poloneck sweater that's a little oversized.
Let it hang out and loose. It can be as big as you like #bumcoverage.
Zip up a skirt that sits longer on or over the knees.
Pull on ankle boots, white sneakers, pretty heels or long boots.
Walk out the door. #Done.
Fashion tip.
Stick with black, navy, grey and camel. Duh.
Notice the bare legs ! Black opaques if you must.
Ditch the coats , well until you are freezing your butt off.
So chic !
Now #getshopping
Click on the pics or hit the links in the shopping list below after the streetstyle pics.
Your shopping list:
Country Road grey sweater, Elizabeth and James black skirt, Ninewest long black Boots
Bassike sweater,  Matches navy skirt, New balance sneakers
Trenery sweater, Shopbop skirt, Seed mules.
Uniqlo black sweater, Sportscraft skirt , Rag and Bone boots
J Crew grey sweater, Zimmerman skirt, Gianvito Rossi ankle boots