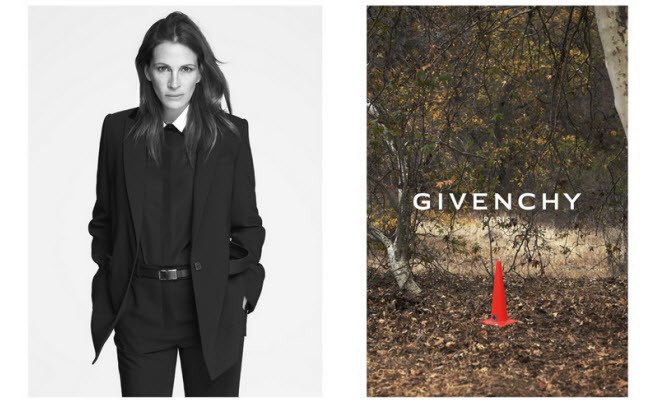 They said what?!
|
"She has the most beautiful smile in the world and I love it, but it's Julia's sensibility that interests me. I fell in love with her because she's a strong woman, but she's also fragile. I also love her intellectual side. So for me, the Julia in these pictures is the real one you see every day.  They're really honest portraits of her " Designer Riccardo Tisci on Julia Roberts who stars oin the latest Givenchy campaign
"My sister and I were actually just on the phone, and we were laughing so hard. She goes, "How are you suddenly turned into a supermodel? You're almost 50." It's funny." Julia Roberts on her Givenchy campaign.
"Trends and I never shall meet; I just can't quite pull it off! That's why I love a suit. That's why I love impeccable tailoring and really perfect fabrics. He did it all. That black, flowy blouse? It's heaven on a hanger. It's like a piece of artwork" Julia Roberts on Riccardo Tisci and the Givenchy campaign.
"If I could be completely anonymous, I would. But, these days, it's not possible anymore in fashion. Since working at Jil Sander, and especially since Dior, the whole thing is very global and exposed. It's over-the-top exposed and communicated. And that's not me as a person. It's also not my brand. We don't advertise. We simply put our clothes out there" Raf Simons on the Internet, Patience, and Fashion's Serious Fear of Evolution
"I had my last one at 43. My grandmother had her last at 49. Every month, I'm like, 'I hope I'm pregnant!' (to which her publicist replied 'Off the record') "'Off the record'? I don't mind! "Why not, right? I wish I was!" Nicole Kidman to Elle 
"I think that she has been very poised throughout her public life. She's not someone we're going to see out paddle-boarding in a G-string; she doesn't set up situations where she's playing to the paparazzi. She's more old-school than that. She's not that kind of movie star." Sheryl Crow on Nicole Kidman
"I must say that mine — though it has enjoyed fleeting fame — is not comparable. But the Kim butt story did make me pause. What is it with this American booty culture? It seems to me to be a form of obsession." Pippa Middleton
"Dear Santa- may I please have my teenage sized breasts back? I've been a good girl. I had a baby and I'm a great mom. I work hard and I have been really nice this year- love you, bye!" Actress Jaime King.