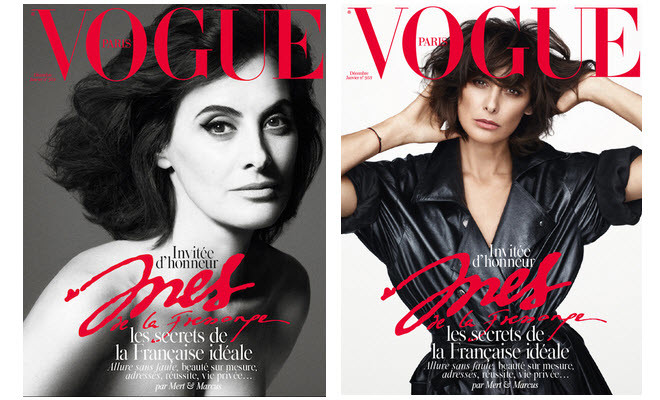 They said whaaat?!
|
"My dentist is gonna be so happy with this @vogueparis december issue ! " Ines de la Fressange on her Vogue Paris Cover on instagram
"I'm often asked about the Parisienne. What does she look like? How does she dress? Then I bump into Ines de la Fressange and it's all there: the silhouette as slim as the stroke of René Gruau's pen, the sober style that exudes innate elegance, the deep brown gold-flecked eyes, the velvet tones that belie an irresistible spirit, the healthy dose of common sense, the taste for liberty and joie de vivre.' French Vogue editor Emmanuelle Alt on Ines de la Fressange
'Cara, ever since you were four, you told me you wanted to be Claudia Schiffer, while you were naked in the bath with a sponge on your head" Poppy Delevingne presenting an award to sister model Cara.
"Thank you for everything to all of you. I am nothing without fashion. Sorry to everyone on a shoot when I played my music too loud and danced around.t" Cara Delevingne
"We've come a long way since that Spice Girls dressing room. David, you inspire me every day.  I adore you and my children. And my parents, you love me unconditionally – and I know I am a pain in the bottom.'  Victoria Beckham accepting British Fashion council award
'It was the dynamic aspect of playing a really interesting, complicated person that was not readily available. Honestly, I don't know a woman who isn't complicated. It's strange that you don't see many complicated women on film; complicated meaning complex, I should say.' Reese Witherspoon playing Cheryl Strayed in Wild to Harper's Bazaar UK
"it's almost impossible to get bored with one another. We've tried so hard! And even that's interesting because his eyes are so pretty, but we can entertain ourselves and talk about endless things, which is pretty great." Jennifer Aniston on her boyfriend to harpersbazaar.com

"If you get high, you can do that, which is why a lot of people drop acid or do drugs, because they want to get closer to God. But there's going to be a short circuit, and that's the illusion of drugs, because they give you the illusion of getting closer to God, but ultimately they kill you.' Madonna to Interview magazine
"I don't think it's down to me to judge Madonna ..but I think the question is, "What is Madonna telling us? Anybody know?"' Annie Lennox  on Madonna's cover on Interview
"I think it's attention seeking.' Janet Street Porter
"I think it is.' Annie Lennox