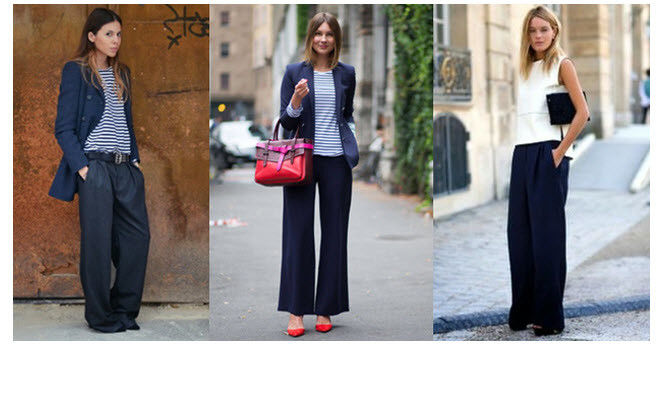 You need navy wide leg pants. Stat. #musthave.
|
What : Navy wide leg slouchy pants.
Which: They should be wide leg and slouchy. Duh.
They could have a high waist. They might have a flat front, a tie front or sit flat over the muffin situation.#yesplease.
You might like them extra long or cropped like culottes.
The only criteria? They must be navy.
Why: Because after seasons of skinny pants the wide leg pant looks new.
Because navy loves black but it isn't. Which means you can wear these navy numbers with a black top and not look too matchy match.
Because wide navy pants love stripe tees. And we all love stripe tees.
Because Celine – the oracle of all fashion and the only designer to obey – included lots of navy, wide slouchy pants in the last Spring summer 15 fashion show in Paris.
Meaning? Buy now and wear for years.
Wear: With all your favourites. Yes, we are talking a stripe tee, a trench coat and a white shirt. Mix navy and black and double your wardrobe. See how Celine mixes navy and black together? It looks fabulous non? Who said minimalism is not totes chic?
Tip: Tuck in the tops or have them sitting out slightly over the waist.
So what about shoes? These wide pants just adore wedges. The length and width hides them anyway so pull out last season's heels. #sneaky. Pointy pumps work with shorter culottes but I think wide leg pants look great with white sneakers or lovely jewelled sandals.
And you can see Angela looks fabulous in the Veronica Maine pants and stripe tee and trench from one of my recent FIFi Stylemasterclass.
Don't forget to check out the SHOP It Pinterest page where I post more fabulous pieces as I find them…
Where:  SHOP NOW!  Veronica Maine, Asos, Vince, Tory Burch, 3.1 Philip Lim, Scanlan & Theodore.

*All pics from  FiFiReport pinterest pages. #Get shopping