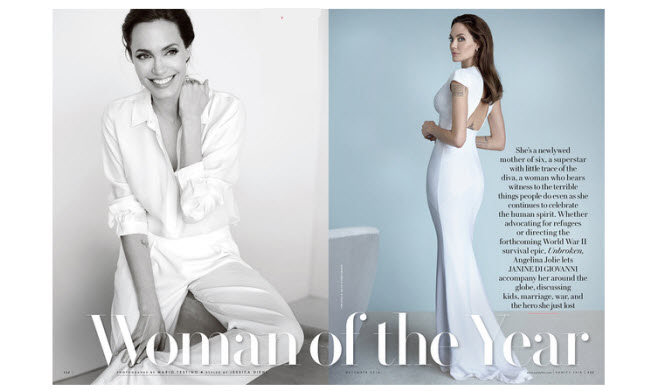 They said what??!
|
""They did not expect us never to fight, but they made us promise to always say, 'Sorry,' if we do. So they said, 'Do you?,' and we said, 'We do!' "" Angelina Jolie on the vows her children wrote for them to Vanity Fair
" I'm sure there will be things that my grandkids make fun of me for no matter what, but I'd really rather it be, "Look how awkward your dancing was in the Shake It Off video! You look so weird, Grandma!" rather than "Grandma, is that your nipple?"'. Taylor Swift to Time magazine
"you're someone's mother.." Naya Rivera ( who?) on Kim Kardashian bearing it all , going completely naked for Paper magazine ….(Grandma is that your??? Gulp…well, her butt is bigger than her brain..)
"When I first put it on, I thought, this is so incredibly beautiful. Then I thought, 'Wow, my chest is worth a lot of money right now!' Model Adriana Lima, on wearing the Victoria's Secret $2 million "Fantasy Bra".
"I think the idea of beauty has broadened. But I do see my daughter and her friends talk about "thigh gap." I didn't even know what that is. I was like, Honey, you probably are not going to have one because I don't have one. " Cindy Crawford to nymag.com
"I would love to, but my hips are so unforgiving"  Stephen Colbert when asked by Diane von Furstenberg to wear a wrap dress.
"You have been a princess, you have been a fashion designer, which are the two most popular Barbies." Stephen Colbert to Diane von Furstenberg
"I dress everyone else; I'm really bad at dressing myself. It's not my priority. I find it much more exciting to dress everyone else. I'd hide in the corner if I could. I'll arrive, look at my options and just wish I would've stopped for a moment and thought, "what am I going to wear in two weeks' time?" It's interesting, the psychology of me. I'm kind of devastated at the thought of focusing on myself. I don't feel comfortable doing me"  Stella McCartney to WWD
"I've never been terribly preoccupied with how I look performing. Certainly Carrie is not defined by her attractiveness." Claire Danes on her infamous cry face on Homeland to glamourmagazine.co.uk
"I'm better at it now. I think it's getting older. The first couple of jobs I did, I was like: 'How did I land this? I hope they don't fire me.' Now I do that less. I have opinions" Carey Mulligan to harpersbazaar.co.uk
"I did have a dream to be an actress, but I didn't think about being famous. And I haven't yet figured out how to be a celebrity; that's something I'm learning, and I wish there were a course on how to handle it" Lupita Nyongo to Glamour.com