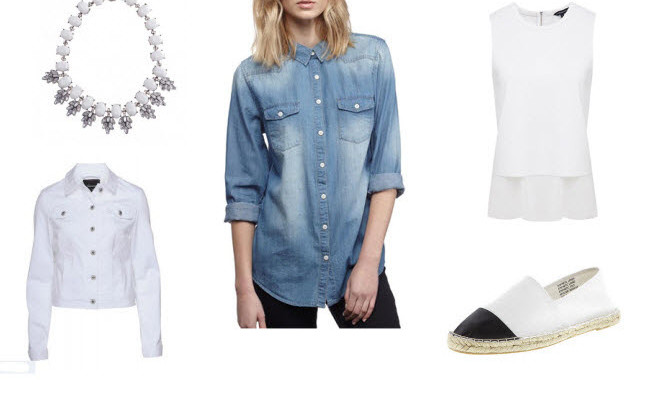 Five Fabulous FiFi Finds #cheap&chic.
|
Let me present five fabulous FiFi finds.
All cheap but totes chic. We are talking from $16 to  just $80.
Whaatt?! Grab a paper bag and calm down.
Then #getshopping
The Cotton On Denim shirt is a must buy. Wear it with jeans, wear with a leather skirt, with it with white jeans…wear it undone low for sexy summer style.
The French Connection white layered top. It's the perfect loose top that sits so nicely over the almond magnum situation. Wear it hanging out over your skinny jeans, slouchy pants or tuck it into your full flirty skirt.
How chic are these Chanel, I mean Target espadrilles? Why pay more to wear something to the beach?
Everyone needs the tight, white stretchy denim jacket. It's just the thang for casual weekends when a blazer may seem too jooshed up. Love it with a leather skirt or anything full and voluminous on the bottom. Such as your bottom. Yikes. Buy a size smaller and just do up one button. Wear over a white tee rather than black. Know what I mean? Good. Keep listening and you will look fabulous.
Please head to Collette: It's necklace central.  With all the white around for summer I love a white jewel necklace. Dress it down with a white tee and jeans. It's all about contrasts and the unexpected mixes that give you, yes, you, a modern edge. #getshopping. Have a great weekend! x