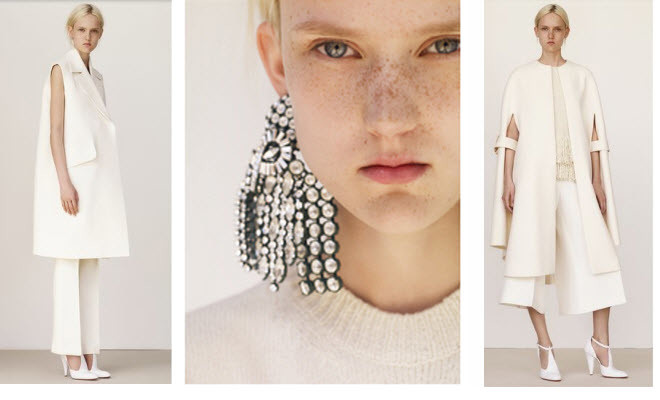 Celine. Resort. Drool.
|
Celine.
It's ALL we want to wear. Ever. In life.
The latest collection shown here?
It's Resort 2014.
Shown months ago just to insider media and buyers this collection is only released to the public when the clothes are available in store.
Why so secret? Why not release this collection online to view 6 months ago?
Because everyone is totally 'inspired' by Celine.
You can see the influence in every collection from Bassike to Country Road to Witchery to Zara.
Those double buckle belts seen everywhere in every store?
from Celine Resort 2014
All those white Birkenstocks and slides everywhere?
Celine.
All those white baggy pants and boxy tops?
Celine
All that white on white?
Celine.
Minimalism. White. Oversized silhouettes and big, voluminous shapes.
It's all derived from Celine.
So what are the trends in this Resort collection?
We are talking white, black, mad bright stripes, long line vests ( LOVE), capes, long skirts and slouchy, baggy pants.
We are drooling over huge glittering earrings.
Crying over the chicest bum bags you have ever seen. #needwant
Dying over the coolest new big sunglasses.
and mad for white shoes and those bags ( DUH)
Fall in love and drool over what you will be wearing next season.
Now.