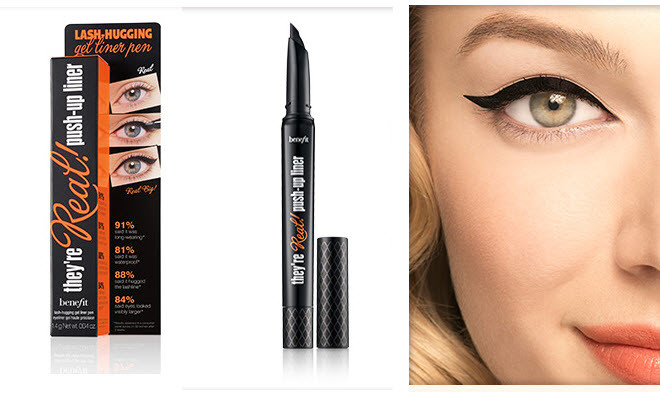 They're Real! Push-Up Liner.
|
What: Benefit They're Real! Push-Up Liner. (Sounds like a bra but it's an eyeliner)
Please explain:
It's the world's first lash-hugging gel liner in a super handy easy to use pen .
How it works :
The click pen has a special tip that neatly hugs your lash line from corner to corner through a clever slit in its angled rubber tip.  All you do is twist the dial on the end until you have just the right amount of gel into the slanted tip of the pen. Then apply to your eyelids for a snazzy look.
Why you need it:
Because it's the first-ever gel in a click pen. Which means you don't need a brush and a pot. It's a one stop shop.
Because the matte black gel formula won't smudge, budge or dry out.
Because it's waterproof. #nopandaeyes.
Because the slanted brush means you can get in really close to the lash line.
Because it doesn't move. In that it stays on. For hours.
Because you will can flutter your eyelids like a supermodel.
$35 Benefit They're Real! Push-Up Liner from Myer and Adorebeauty