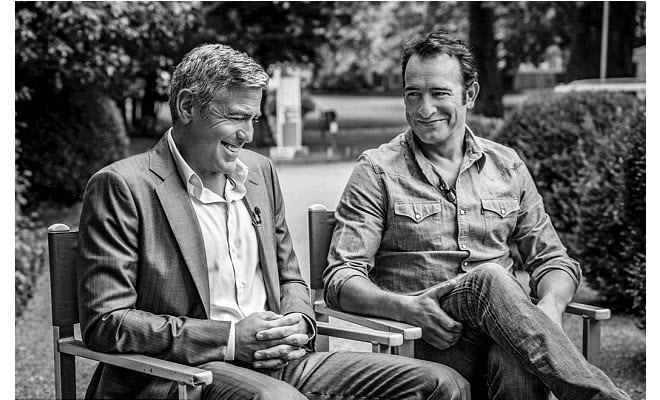 They said what?! #celebquotes
|
'You're very handsome' … 'I know!' George Clooney and Jean Dejardin reminisce while on set for their new Nespresso commercial from  thedailymail.
"This brilliant singer-songwriter has sold 8 million records, has won every single award that there is to be won, especially Father of the Year, which he has won consecutively since 2004," Gwyneth Paltrow at the Inspiration Gala for the AIDS charity amfAR introducing Christ Martin for an unannounced performance.
"We thank you for your inner and outer beauty which you demonstrated by the fact that you get along with your ex-husband." Sharon Stone at Amfar to Gwyneth Paltrow
"I'm not looking for a husband or marriage or not not looking for that stuff. I'm living and not thinking what I should or shouldn't be doing with my life." Cameron Diaz to Marie Claire ( or ex husband)
"I am getting more daring now—I'll wear my mom jeans in public that haven't been tailored 'just so' yet, just because they feel good." Anne Hathaway to Harpersbazaar.com #daring!
"I'm kind of psychic. I have a fifth sense … it's like I have ESPN or something. My breasts can always tell when it's going to rain," Amanda Seyfried.
"She took to her Twitter feed to go, 'Under no circumstances!' I was like, all right, all right! Am I that bad? I can put a whip in my hand. I can get all kinky, can't I? Apparently not." Eddie Redmayne on author E.L. James saying no to him for Fifty Shades of Grey.
"I have an iPhone but it's always broken and out of battery I freak out if someone calls me. I panic. When do you hang up? Who says  'bye first? Bring back the flip-phone". Lauren Santo Domingo to the telegraph.co.uk
"I have a smart guy with a smartphone and a computer and nothing is in my name ever and I'm scared of it. I do have an old flip cell phone called a Rugby because you can drop it a lot and it won't break, and when you want to text it still has three letters to each button" Iggy Pop