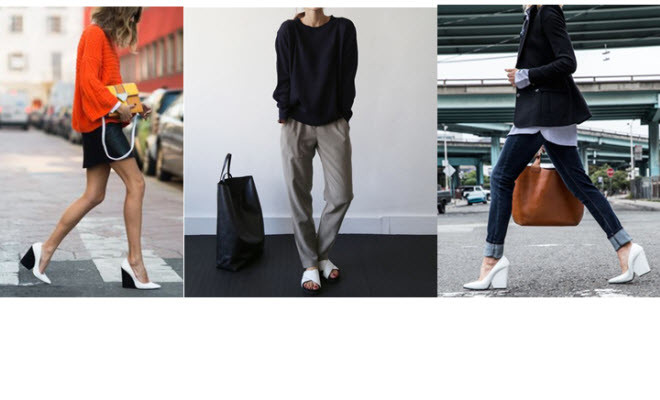 item du jour: 12 fabulous white Shoes #youneednow
|
How to instantly update your wardrobe this season?
It's easy.
Invest in white shoes!
They will completely change the look of well, everything.
Please don't be afraid. #whiteishic
Check out last week's style session masterclass and you will see how a touch of white on the tootsies just seems to lift the whole look from ordinary to extraordinary #cool.
Try it and you will see. Go on. You can do it.
As you can see from the street style shots below the choice is huge.
You can rock the white pointy heels, mules or pull on chic man-style brogues.
If you check out the Celine show -below- from way back in 2011 ( ALL fashion comes from Celine) you can see why I am loving white wedges. #walkable
Then there are chic flat sandals and birkenstocks of course.
And you need simple white sneakers from Converse or Addidas. Yes, I have been going on about them on The FiFi Report since last year. #youneedthem #listentofifi
White is right !
You can shop from Net–a-porter, Wittner, Ninewest, Seed, Tony Bianco, SAKs, Novo, Surfstich, Trenery,  and Saba.
Click on any of the pics below # getshopping !