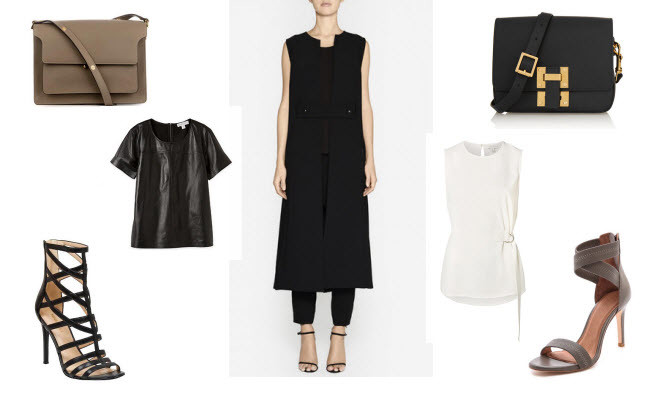 12 fabulous classic pieces you need #rightnow #getshopping.
|
This week we are drooling over 12 fabulous pieces you need. Right now.
These are chic, classic pieces updated into a silhouette that's new.
Result?
You don't look like a dag anymore.
You look chic and modern.
#getshopping #clickandshop.
The black culottes from Saba.
Update your skinny black pants into the new shape of the season. The culottes.
Wear with heels. That is an order. Flats and culottes are for the mutation of the species = models. Wear with a crop jacket to show off your waist. You have one there somewhere. Invest in black culottes. Duh.
The slouchy navy joggers from Jacandjack .
You may not jog but your pants will. This is another shape of pants which will replace those boring straight non de non black pants you have owned for years. The jogger shape. They have elastic at the ankle and a slouchy shape plus a sporty tie waist. They are everywhere this season. Black is good but go for navy. It loves black and white. Joosh up slouchy pants with a sharp blazer and heels. #notsogoodforjogging.
The leather tee from Trenery .
All loyal FiFi report readers know I've been going on about a black leather tee since it was first spied on the Celine runway about 4 years ago. (Note to self: Buy at the beginning of the trend when first instructed by FiFi and you would have had 4 years of wear by now). The trend is still going strong. Love a black leather tee because with black you want a new shape or textur , shine or embellishment. I've been wearing a black leather tee in summer for a couple of seasons now and it works because you have bare arms and legs. So the look is not all overpoweringly black. Plus this leather tee looks heavy but mais non! It's quite light and easy to wear. I should know. Wear with any new black pants and white shoes. Done.
The summer trench from Country Road.
They tried to make me go to trench rehab and I said no, no, no.  True. I am addicted to trenchcoats and this season the summer trench almost replaces the jacket. Why? Because the new silhouette is all about the longer line vest/ slash coat. (see below). Love the colour, shape and cut of this fabulous trench from Country Road. Wear it undone and toss it over everything. Including your annoying noisy children/husband/cat.
The white top from Witchery.
I am only buying white this season. And I am obsessed with white tees and tops. They just instantly update the look and add light to black skirts and pants. This very Celine inspired top is a winner because it gives good waist. On any shape and size. Whatever the muffin situation. That sneaky belt goes round the back to cinch in your Almond magnums. It hangs low over your slouchy pants or wear hanging out over jeans or a skirt. Repetez apres moi: white next to your face takes ten years off. #cheaperthanbotox.
The long line vest from Camilla and Marc .
Fashion Alert ! The long line vest is the new black leather tee. Meaning? It's a new look that lurking on the horizon and about to go up the groove richter scale. It's a new shape and was seen all over the next summer runways. It's going to hot. How do I know? I am FiFi and it's my job to KNOW. Perfect for the Australian lifestyle because it's sleeveless. Toss over a shirt or tee. Looks fab with pants or a leather skirt. BUY NOW.
The little black dress from Zimmerman.
The little black dress should always be updated. Just like your basic black pants and a white tee. For the last couple of seasons we have been seeing the long sleeve dress. It's been tricky to find. Love this sheer number as it will work in summer and winter. Gives good waist and you can wear it with flat sandals – for casual weekends in Lake Como – because it has a flirty skirt.
The shoulder bag from Marni .
How to lift all your black and navy? Add a taupe bag. It's a neutral colour so it loves all colours. Meaning it's versatile with a capital V. Look for a structured shape and a shoulder strap. Who started the boxy shoulder bag trend? Celine. Of course.
The black boxy bag from Sophie Hulme .
Update your basic black bag and invest in this new boxy shape. Love the gold hardware. Hint: you can mix silver and gold together. Double your wardrobe.
The pointy pump. In grey.
We've seen the return of the classic pointy pump but you need to update it to grey suede. It works the same as white shoes in that it will lift your look and work with black. Love grey suede for summer.
Hint: always roll up your hem of your trousers or jeans.
The ankle strap sandals from shopbop .
Again this style of shoe has been around for the last couple of seasons. Wave goodbye to the major platform peeptoe pump and embrace this simple shoe. Let's update it to a lighter neutral colour . And look for snazzy straps that cross over at the ankle. Less chance of a cankle situation and more chance of leg lengthening when the straps dip into a V. Toss back with jeans and cargo pants. With slouchy pants or with a dress.
The cage heel from Ninewest.
This is gladiator lite. LOL. Yes, it's about the strappy caged heels but it's the milder, chicer version don't you think? A more elegant shoe and perfect for summer. Maybe not for every day stomping around the supermarket but just right for low key weekends with Bradley Cooper. #getshopping #clickandshop.