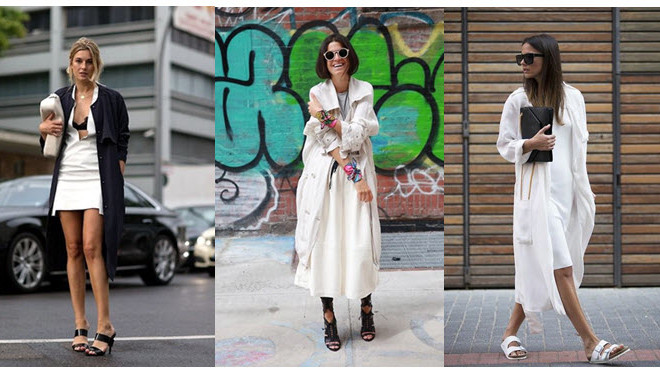 Wear it right now: The Trench #transeasonal #intosummer
|
So what did I see as I was running around like a lunatic in Louboutins in the stores this week?
Black and white. Black and white. Black and white. Jeans. Denim. stripes. A few horrid pastels. A few scary prints. Yikes. #they're coming. #ignore
So what stood out in just about every store?
The trench coat.
Otherwise known in fashion as the summer trench or the spring duster coat.
First spied at Celine two years ago ( where else ? all fashion starts there) ( you can blame Phoebe Philo for everything including fur birkenstocks)  the summer trench was one of the major trends on the spring runways.
Woo Hoo !
Start clicking on these fabulous trenchcoats and start shopping !
As all loyal FiFi Report readers are aware I have a serious trench addiction. Been to Trench rehab many times. Doesn't work.
So I am totes thrilled to present to you the best summer trenches to buy right now. At all prices.
The good news?
You can wear it right now even if you are freeezing your Marni off in Melbourne and Wellington. How so?
Layering, darling. Layering.
Add a denim jacket, sweater and a cashmere cardigan under your trench. Do up your shirt. #styling trick.
It's the perfect transeasonal piece.
Which is why the new trench is best if it's big, loose and oversized. #Like my thighs
Go for any colour black, stone, white, denim or even a soft pastel pink ( the only time you can wear that colour).
Hint: Just remember to stick to three colours on the body. To avoid the head to toe black thing. Grey, stone and white are classified as colours by the way. I mean how gorgeous does all that white look with the trenchcoats below?
Warning: there is a new sense of proportion coming in fashion. We are talking volume on volume. Oversized trenchcoats worn over wide pants and slouchy sweaters and long pleasted skirts.  We're talking long coats over short shorts and crop tops. Oh la la!
You will learn to love it.
#Almondmagnum #eatersrejoice!