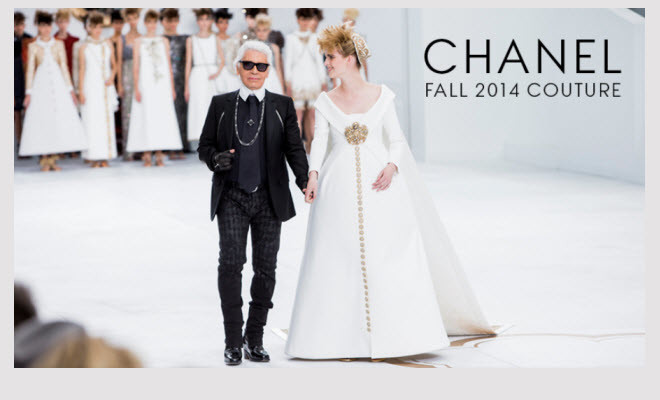 They said what?! #celebrity quotes
|
"Le Corbusier goes to Versailles! Modernity with baroque elements!" Karl Lagerfeld at the Chanel Haute Couture show.
"I like pregnant women," he said, in keeping with his new cat-loving, godfather-ing public persona. "She looks so elegant, so noble." Karl Lagerfeld appointed New Zealand-raised model Ashleigh Good as his 2014 Haute Couture bride.. Style.com
"Sam McKnight and his team cut 50 real-hair pieces a few days before the ( Chanel) show, which they washed "with dishwasher soap. Yes, the stuff you're going to wash your plates with tonight. It helps strip the natural hair back to a dry, malleable texture," McKnight explained to Allure 
"Very often, the clients of couture are very young," Mr. Lagerfeld said. "They are the second wife." wsj.com
"Stilettos give an attitude that's very stilted," Karl said after the Chanel show. "I wanted [the models] to walk like it was nothing." wsj.com
'Thong in chic,' Lagerfeld quipped about the Chanel flip flops sandals.. Theguardian.com
"What's important is that my family and I are all good. What we had to say collectively was in the statement that we put out, and we all feel at peace with that." Solange to Lucky magazine on the elevator fight with Jay Z.
"Celebrating his first birthday this month, Prince George Alexander Louis of Cambridge is noisy, ravenous, and destructive. He's also a media star, a style icon, and a P.R. triumph" Vanityfair.com

"Every day and every night, the paparazzi are parked outside my house. They want a shot of my stomach because they need proof of my pregnancy. I don't know why they even bother—they've been saying I'm pregnant for years. Now they're right, so they won't leave me alone." Mila Kunis to W Magazine.