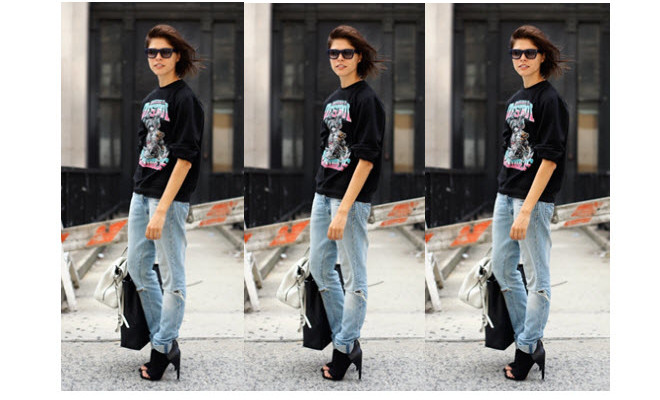 Get the look: 80's sweatshirt
|

Ok, so this is very fashion.
Grab a paper bag and breathe. Keep calm.
Those 80's sweatshirts are back.
Thanks to Balenciaga. So daggy they are cool.
If you had wanted Balenciaga you would have bought it last season. Because you knew.
If you want a bit of fun and to spend a whole lot less then run to Sportsgirl who have done the look for $27.
My point about this look? You don't need a jacket with jeans. It's about wearing boyfriend jeans ( these $139 from Bardot) with say , a gold sloppy jumper from Saba and then adding sexy shoes . Or sensational red suede ankle boots $139 from Ninewest.  Ripped jeans need a little love and sophistication.
Add a white Alexander Wang bag to lighten it up and you are go for launch. Into the future.
Warning. Warning. Warning.
A UFO sweatshirt is not ageless. You will look muttony if you are over 35.  Sorry. But c'mon guys we want to have a bit fun here. Or it will get sooo boring I'll be snoozing instead of shopping. Quel Disaster !