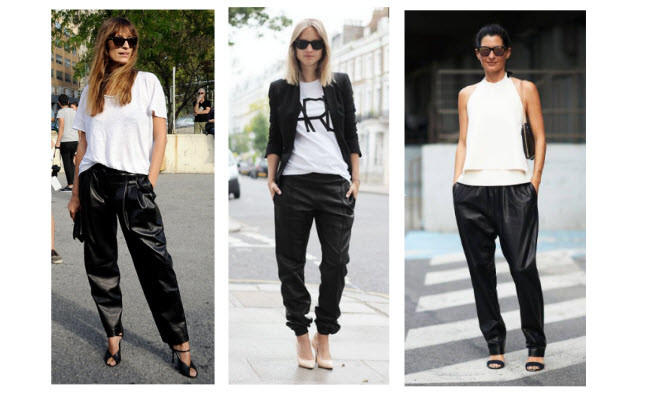 Cheap & chic: !eather pants.
|
If you have been following me on Instagram you would have already clapped your hands with delight on seeing my cheap & Chic of the week : black pleather track pants from Cotton On for $34.
Outrageous !
I yelped with glee and shrieked with awe when I first laid eyes on divine leather track pants in the Celine show  waaay back in June 2011.  Yep, these little beauties first turned up three years ago.( see below).
So why do you need to rush like a lunatic in Louboutins to Cotton On?
Because these coated trackies are baggy, slouchy, low key cool.
The cut is good.
Buy a size up. So they are not tight. Pleather + tight = scary.
They are matte : this looks more expensive than cheap and shiny.
Wear right now on warmer days with a white or grey tee. Or try an oversize white boxy top. Then do the half tuck such as street style star and Chanel model Caroline Maigret (above left). Later in the season when it's chillier toss on a big sweater. Or a blazer.
Add heels. Pointy heels.
We all need leg lengthening and a touch of glamour.
NB: If the pants start to bag on your baggy bottom after 2 wears? Wear them under a coat.