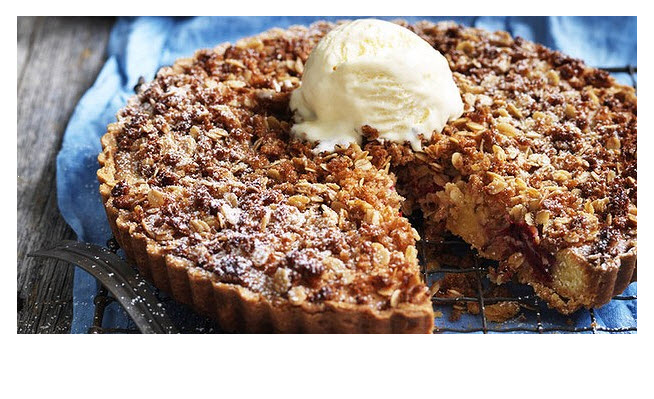 Rhubarb and almond crumble
|
Rhubarb and almond crumble ..adulterated from Neil Perry

It's not really a crumble and it's not really a tart..it's a Tumble!
This is a bit of a rigmarole to cook but so delicious it's worth it.  More dinner party situation than mid week dessert whipping up left over rhubarb kind of thang.
You need for 8 fashionistas and 6 teenagers and 35 models:
2 sheets frozen sweet short crust pastry, thawed
egg wash (1 whole egg and 2 tbsp milk, whisked together)
75g unsalted butter, softened
100g caster sugar
1 large (70g) egg
yolk of 1 large (70g) egg
75g ground almonds
25g plain flour
3 stalks trimmed rhubarb, cut into 3cm pieces
pure icing sugar, for dusting (optional)
For bread and oat crumble
70g crustless wholemeal bread, blended into medium crumbs
40g rolled oats ( or plain muesli)
30g demerara sugar
generous pinch ground cinnamon
80g unsalted butter, melted and cooled
Method
Preheat oven to 180°C.
Spray a 24cm loose-bottom fluted flan tin with oil.
Slip into Celine furkinstocks and sheepskin onesie.
Pour a wine. Stat.
Lightly flour a bench.
Place the 2 pieces of the short crust pastry on top of one another and roll out so that the pastry is 2cm wider than the tart tin. This is to make the pastry fatter. Sorry you might understand that word. Bless
Roll the pastry over your rolling pin and gently ease it into the tin, pushing the pastry in gently so it follows the fluting.
Place in refrigerator and rest for 30 minutes. That's you and the pastry.
Pour another wine. Stat.
Then get pastry out of fridge and line the pastry with baking paper and rice and blind-bake for 20 minutes.
This means you cook the pastry before filling it ( not get blind drunk and then cook the pastry).
After 20 mins baking: Remove the rice and baking paper and brush the pastry shell with egg wash.
Cook for a further 10 minutes.
Ask George Clooney to get with the program. Stat!
Get him to chop up the Rhubarb. Stat!
Get him to ground the almonds in the whizzer.
For the crumble, combine breadcrumbs in a small bowl with the oats, sugar and cinnamon and mix to combine.
Drizzle over melted butter and mix well with your hands to evenly coat dry ingredients. Set aside.
Increase the oven to 200°C.
Cream butter and sugar in a food processor. Lick the bowl. Stat!
Add eggs and yolk until thoroughly mushy and mixed. Think Facemask situation.
Using a spatula, fold in ground almonds and flour. Think folding a Celine pleated skirt.
Tip into cooked pastry case and scatter with the rhubarb.
Don't worry the Rhubarb will magically cook …
Bake for 20 minutes, then remove tart from oven and decrease oven to 180°C.
When I say remove tart I don't mean remove George's ex girlfriend. I mean the pastry.
Scatter crumble topping over tart then bake for a further 30 minutes. (Over both tarts).
Remove from oven and allow to cool.
Refrigerate until firm before cutting with a sharp serrated knife.
Serve with a scoop of vanilla ice-cream and lashing of cream.
Faaaabulous! Published on: Jun 7, 2013 @ 14:22