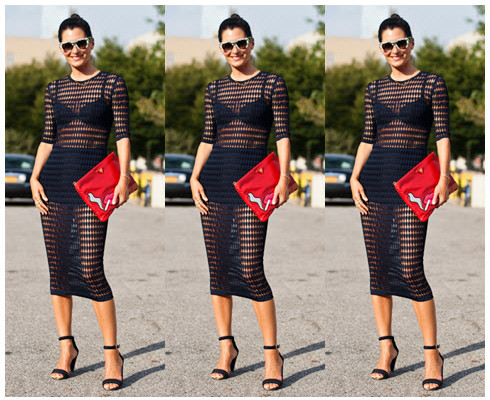 Get the look: A black sheer dress.
|

Don't get scared.
Don't start thinking I am telling you to wear a see-through dress.
No , I haven't lost ma mind honey.
Just love this look of the sheer black dress. Use this as an inspiration and then make it work for you.
Don't be afraid of black.
Ignore all those stupid makeover TV shows that rant about colour. Yawn. They have no idea. Bless.
You can do black but just look for the new shapes and interesting textures.
This is a great dress from Country Road . It gets all the ticks. It's fitted, has texture, it's the right length. Plus it has cutaway shoulders : soo flattering. Oh and you don't have to show your bra and undies. Phew. Plus it's $179.
Grab a red clutch – not neccessarily Prada- like this leather bag from American Apparel. It's adds the Kapow of colour. You want these silver glitter very Miu Miu sunglasses from Sportsgirl. Why? because a black dress can take any glitter thrown at it.
Love the shoe of the season which is the ankle strap low key sandal like this one from Zomp. $185.
Hashtag toteschic.