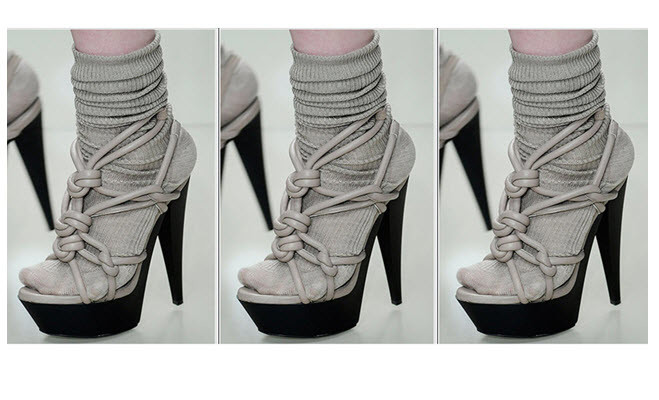 Cheap & cheap of the week: Socks!
|
What: Socks for Summer!
Why: Because they are a continuation of the sexy shoe boot trend but a warm weather version.
Because short socks under sandals can give the same look as the heavy gladiator.
Because it's the hot, hot trend straight off the runways  for next pring summer  !
Because sometimes your little footsies can get cold.
Which: Go for soft, light, or almost sheer. It's not about wearing a chunky, hand knitted, clumpy version.
You want a solid colour (stripe socks anyone?). Most probably in a pretty pale colour or maybe black.
They could have a rib but they do not have a lace trim. Eeek.
Wear: With all your strappy chunky high gladiator sandals. You can pull them up to the knee (as Miuccia did at Prada seasons ago) but this summer pull them down so they slouch around the ankle. You need to wear these socks with short skirts and lots of sexy legs. Socks are a little scary with flats or sandals.
Unless you live in Byron and smoke hooch every day.
Where: Major department stores or head to Burberry, Dior or Marni next season (first posted Sept 2010)