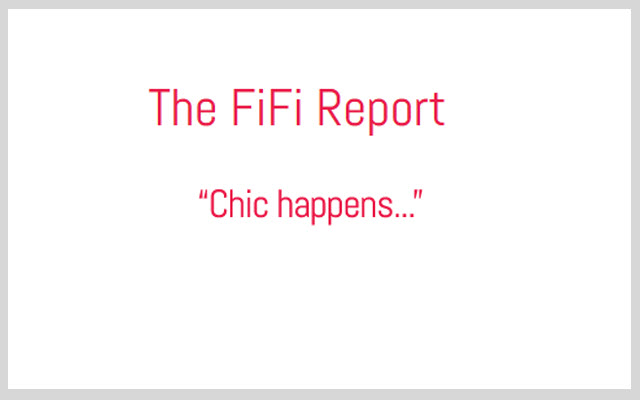 The FiFi Report !
|
Welcome to the New FiFi Report !
Full of Fashion, Fun, Fabulous Food and Frivolous Frou fou ..and all other F words you Fantasize about.
All your favourites are still here : what's hot in the shops, hilarious quotes and the latest must read books.
George Clooney/Bradley Cooper/Ryan Gosling are all still here chopping away in the Kitchen.
Now there's more !
The big difference: There will be shorter more regular blog posts all through the week . Chic Alors!
We're talking more fashion, shopping and lots of tips on how to get the look from snazzy street style stars.
We're talking the best beauty products you need in your life and a big dollop of the latest globetrotter fashion news you need to know.
There will be an item du jour you must have as soon as I sniff it out.
And a cheap & chic of the week to race out and buy as soon as I pounce upon it.
Think of it as your international passport to shopping pleasure.
Voila your new Friday afternoon FiFi Fix !
FiFi xx
P.S: The new FiFi Report blog is a marvelous mix of snazz-a-licious new posts with a scattering of oldie but goldie books, recipes and fashion.
PPS. we have been working really hard but there's always a few bugs, so please be patient. #Merci
PPSS. Please feel free to leave lots of comments or email me anytime. I love to hear any FiFi Feedback x