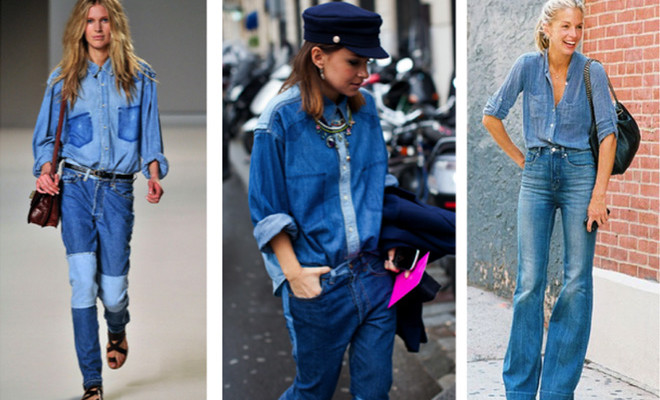 Double denim does it again!
|
We first saw double denim – that is denim worn with denim – on the runway at the Chloe Spring 2010 show way back in 2009.
Gasp! was it coming back…again?
Whaaat?
Visions of Justin and Britney came flooding back. Scary.
Then the idea warmed on us.
Now suddenly (!) it looks chic. Groovy. Right on. It's an easy casual style to pull together right? Mix a denim shirt with denim on the bottom and you get the look? Well, it can get tricky. It's how you wear it and the accessories that make the difference.
Check out Miroslava Duma ( middle top). She has pulled on baggy denim jeans with a slouchy denim shirt . The key to pullling it together? She adds a seriously blingy necklace worn on the outside of her shirt. She's pulls on a jaunty cap and Voila! Instant cool.  Of course for low key chic you can't go past Meredith Melling Burke (from US Vogue) who flaunts the retro angle with high waist ,70's style flares and a chambray shirt. With hair pulled back, wedges and a boho bag it's a clean, fresh all american take on denim.
If you've got amazing legs like model Joan Smalls ( Bless!) then why not rock tiny denim shorts with a funky patchwork denim shirt?  (And get away with wearing those fabulous sneakers!). Mere mortals can find that look difficult to pull off.  But she adds a contrasting brown belt and it's style with a capital S.
For a more feminine touch please turn your attention to style street star and all round fashionista Shala Monroque . Talk about understated, effortless style. She adds a little elegance to denim. See how her shirt is tucked in. She has thown on easy ballet flats and tossed a red Chanel bag to dangle nonchalantly off her shoulder. The groovy cats eye sunglasses add that all important and oh, so cool edge. Love it. (matching blue Push bike optional).
Denim on denim: it's double the fun.