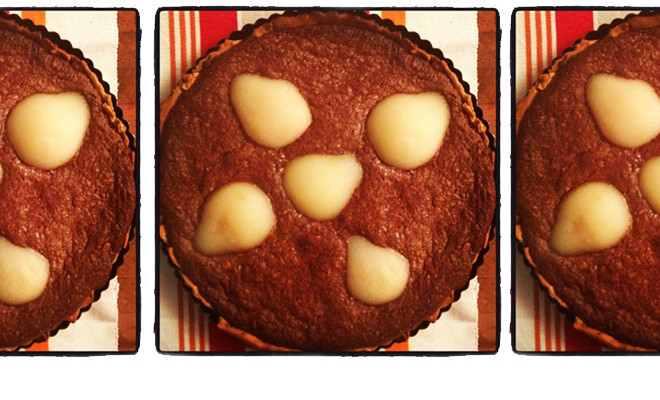 Chocolate and Pear Tart
|
This is so easy and quite simply delectable… Buy frozen pastry. Buy a can of pears. Buy almonds, chocolate etc. Mix. Bake. Outrageously superb……. adulterated from Jamieoliver.com
You need for 6 fashionista, 4 teenage boys or 30 models;
A pack of ready-made shortcrust pastry
125g ground almonds ( whizz up your own )
2 large free-range or organic eggs
125g unsalted butter, softened
95g caster sugar
185g dark chocolate, melted
3 conference pears, peeled, cored and quartered ( or a can of pears, drained)
crème fraîche, to serve
Slip into Prada leisure suit.
Pull on Isabel Marant sneakers.
Pour a vino. hic!
It's Friday !
Preheat oven to 190.
Pull out the frozen pastry. Use 1and 1/2 squares.
Moisterise a tarte tin.
Line the baking tarte tin with the pastry.
You should blind bake it.
This does not mean you put on your Givenchy eye mask.
So cover the pastry with baking paper and pour on rice or whatever you do for a blind bake.
It's a bake not a date so don't get excited.
bake for about 10 mins until the pastry is as brown as a Chloe bag.
Now whizz the almonds in the whizzer.
They should be as finely chopped and as small as a Kardashian brain.
Now get the almonds out and set aside ( you need to use the whizzer).
Get the pastry out of the oven after 10 mins and let cool a little.
Turn oven down to 170.
Melt the chocolate a little.
Soften the butter a little.
Whizz the butter and sugar.
Add in the eggs.
Then toss in the melted choc and almonds.
Whizz it together.
Now pour into pastry shell.
Open can of pears and drain.
Arrange about 5 pears on top of the chocolate. Press into the goo.
Throw it on oven and bake at 170 for about 45 to 50 mins till the pastry is as tan as Beyonce and the chocolate fillings is as set as face mask.
Accessorise with lashings of cream.
Divine!
Beware: This was so fabulous George Clooney proposed .